June 1-2, 2020
K-8th – Try these Warm-ups & Exercises:
**Please,Take Pictures/Video of you doing gym activity and Send to Slaudatigym@yahoo.com
https://www.snackinginsneakers.com/alphabet-workout-no-equipment-needed/#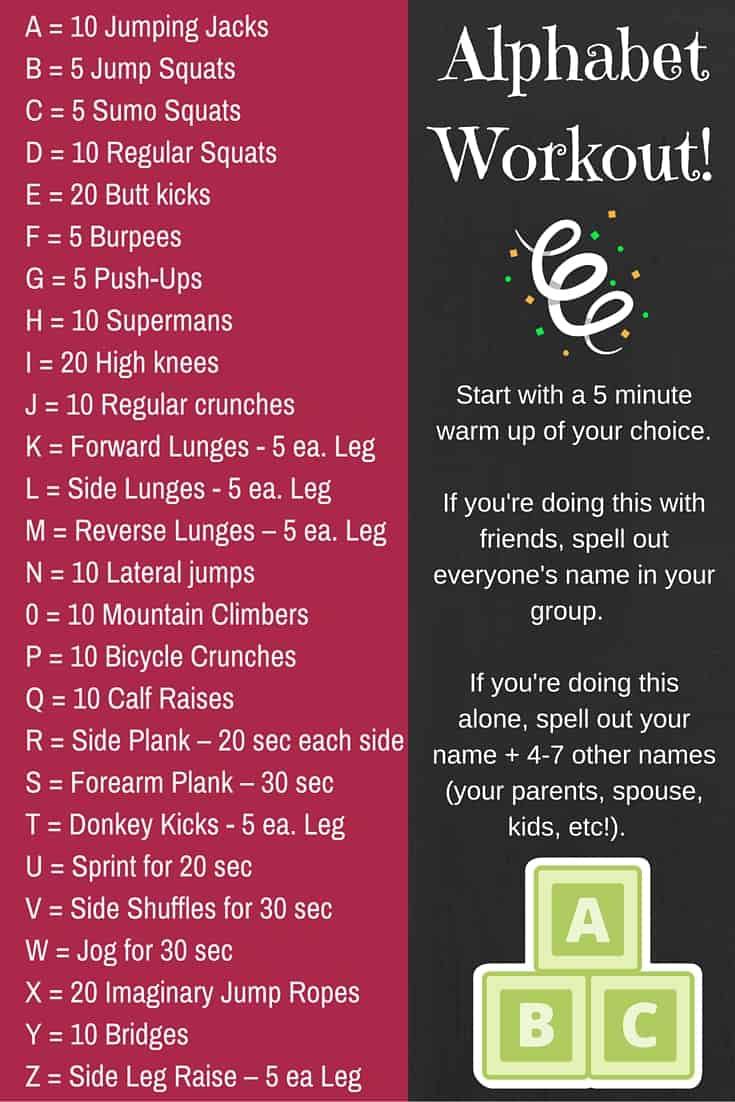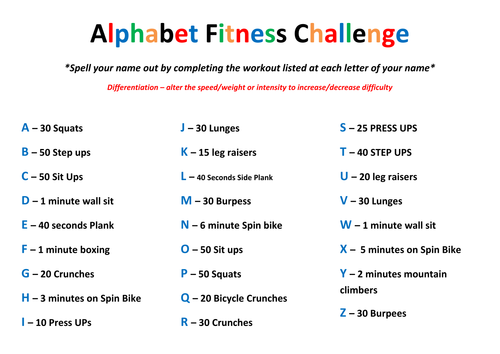 ~All Classes Continue Warm-Ups and Exercises ~   
May 26-27, 2020
Each Exercise 2nd – 8th count to 10(ten)
Each Exercise K -1st count to 7(seven)
Sitting Stretches:
Leg Stretches (alternate)
Butterflies
Pike Stretches (alternate)
Stand-up Warm-ups:
Toe Touches
Jumping Jacks(If Possible)
Leg Crossing Bend (alternate)
Leg Lunges (alternate)
Leg-Back Stretch (alternate)
Cross-Arm Across Chest Pull-In Stretch (alternate)
Roll -Head Slowly -Around (alternate)
Arms-Out Roll Forward /Backwards
12″ Leg-Lifts [laying on your back]3 X 10 count
Arm-Out Squats : [arms out forward] 2 Sets of Ten
Knee-Lifts [like marching in place and lift knees as high as you can.]
~Jump Roping Competition~
❤ Jump To A Healthy Heart❤
---
Grades K – 8th
Healthy Hearts:
Equipment Needed: (timer= clock/watch/cell phone ,etc.
Jump Rope or [substitutes]Plain Rope/un-used cord/Heavy string.
Paper to record total jumps per round.
**You may jump solo, or tie one end to a door knob with door closed and have someone twirl the other end or have 2(two) people twirl for jumper.
Task: Try to jump as many times you can for 5 min. 
Pace yourself and take mini breaks.(pause timer)
*Keep a running total (don't start over to 1(one), while jumping in each round)
~~~~~~~~

TIMES UP!!!!

~~~~~~~
Take a break and then try to beat that first round attempt by 10 or more jumps.
The more you do, the better you will feel,  in the long run for your…
…HEART !  ❤❤❤❤❤❤❤❤❤❤❤❤❤❤❤❤❤❤❤
**Take Pictures/Video and Send to Slaudatigym@yahoo.com
May 18, 2020
Visit Ms. O'Shea's Site for : ZUMBA CLASS
Spanish/ Computers – Ms. O'Shea – WordPress.org Site &
OSheaSpanishTeacher@stpeter-school.org
***Take Pictures and send to Slaudatigym@yahoo.com
"ZUMBA VIDEO INSTRUCTION"

Also Stretch / Warm-Ups Before Activities.
Reminder:
Ms. O'Shea's WordPress Website she is performing and showing a ….
"Zumba Class"
>Please stop by her class and have Fun there as well!!!!<

A Major Shout Out to Ms O'Shea and her Zumba Dance Moves !
~All Classes Continue Warm-Ups and Exercises ~
Each Exercise 2nd – 8th count to 10(ten)
Each Exercise K -1st count to 7(seven)
Sitting Stretches:
Leg Stretches (alternate)
Butterflies
Pike Stretches (alternate)
Stand-up Warm-ups:
Toe Touches
Jumping Jacks(If Possible)
Leg Crossing Bend (alternate)
Leg Lunges (alternate)
Leg-Back Stretch (alternate)
Cross-Arm Across Chest Pull-In Stretch (alternate)
Roll -Head Slowly -Around (alternate)
Arms-Out Roll Forward /Backwards
12″ Leg-Lifts [laying on your back]3 X 10 count
Arm-Out Squats : [arms out forward] 2 Sets of Ten
Knee-Lifts [like marching in place and lift knees as high as you can.]